Vinyl Inground Pool Construction
Rios Pools concentrates on the new construction of steel wall, vinyl liner inground swimming pools.
Bob Rios has managed the construction of over 500 such pools, in his 20 plus years in the swimming pool industry.
Have your dream pool built with an automatic cover! The ultimate in peace of mind, for safety, and it also can save money on chemicals and heating costs!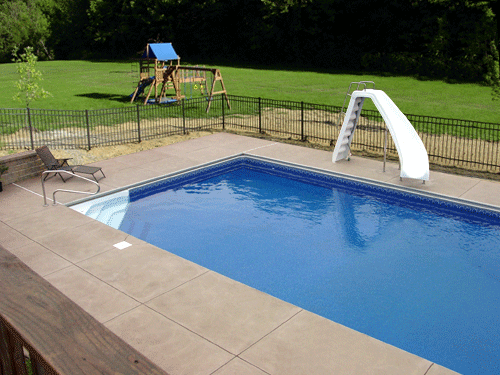 Our Construction Process
The construction of an inground pool can vary, from pool to pool. However, this general list, of the steps in the process, should give you a basic idea about how the process typically progresses. Weather permitting…
Your pool layout will be marked in your yard. Trees and other obstructions will need to be removed or protected.
Rios Pools will begin to gather the necessary construction permits, and check for underground utilities.
Excavation equipment will be brought in, to dig the hole for your pool.
The pool walls, pool substructure, and plumbing will be set into place and secured.
Coping is installed and bonding takes place.
The pool is backfilled.
The bottom of the pool is shaped to create the pool's form.
The pool's vinyl liner is installed, and the pool is filled with water.
Concrete is poured for the pool deck.
Finally, the installation of accessories, hardware, and filtration systems takes place.